We carry the two most common types of cables – nylon and stainless steel. Each has benefits and drawbacks, and each is a valid choice for specific applications.
Clear nylon – this is best for smaller, lighter artwork. It holds up to 15 pounds – which means if you're going to be hanging multiple pieces, they should be very small and light. The biggest benefit of nylon cable is that if you are going for a "floating" look, they are much more discreet than stainless steel, allowing you to create a more low-profile display.
Stainless steel – while stronger, steel is a more visible component within your art hanging system. It can hold up to 45 pounds, offering you more versatility for size of the artwork you're hanging, and more options for hanging multiple pieces on each cable.
You also have choices when it comes to the method of hanging your cables:
Ball-end – these only fit our easy rail system. They slide into the open ends, meaning you've got to leave an end of the rail exposed if you want to be able to change the pieces out. They offer the advantage of being a bit more secure, as they cannot be knocked off accidentally as with the hooks on an open-faced rail.
Cobra-end – like our ball-end cables, this option is also available in both nylon and stainless steel, and can be applied to a easy rail. The big benefit of cobra-end cables is that they can be installed from anywhere on the rail – they do not need to be inserted from the end.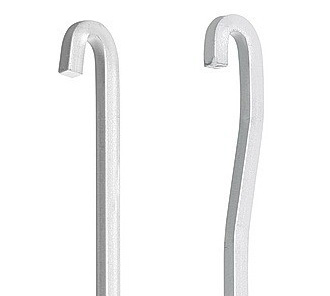 These offer the highest weight support level, at 70 pounds each, and can be used with our classic and ceiling rails. The downside of rods is that they are much more visible than either type of cable, but their ability to hold large pieces of artwork is a major strength. They are available in P or J style, with J offering a flusher mount to the wall.
The type of mount you use with your gallery hanging system will be dependent upon the individual factors in your display – whatever your needs, Mbs has a product to meet them, at the most affordable prices in the industry.