Quick Snap

Browse Sub Category
---
Quick Snap
Our "Quick Snap Letter System" is our version of DIY plastic letter studs for dimensional letter wall mounted signs. Normally, there is a delay in getting large, dimensional letters for wall signs because the letters need to be custom ordered with the studs made into them. Our Quick Snap Letter System allows the user to buy inexpensive, stock plastic or acrylic letters and glue mounting studs to the back and mount them to the wall creating large lettered wall signage.
Large retailers, corporate centers, event centers and more use these lettered wall sign systems to create large, 3D lettered signage on walls providing information, direction, branding or even inspirational messages in places like board rooms. Often found in reception areas or used to identify areas of merchandise or places like restroom facilities they have become a staple in the sign industry. Our dimensional wall signage systems allow for the letter to be set away from or "stand off" the wall creating a 3D effect. Their uses are endless.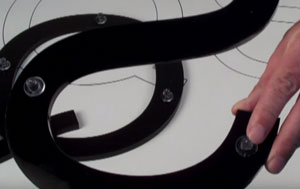 Our two-part system allows you to use stock, inexpensive plastic and acrylic letters available on the Internet that cost just a few dollars each. Create impressive signage worth hundreds if not thousands of dollars with just a small investment. You do not need to wait on custom ordered letters with pre-attached studs. With our system, you glue half of the post system to the back of the stock letters. (Please watch the video below or click here to watch how to use the system.) The other half is screwed into anchors hammered into a hole drilled in the wall. You just snap the part glued on the back of the letters into place on the half in the wall. Unlike other systems, where the letters are permanently attached, ours allows you to remove and replace letters. If damaged from the sun or an accident just buy a new letter, apply some new Quick Snap Letter posts, let the glue dry and snap your new letter in place. Other systems can damage walls if they need to be changed creating a lot of extra work. Work smarter not harder and have a better looking product that costs less.
If you have a business, it is very important that customer are able to easily find it and find things within it. With the help of MBS standoffs wall mounted letters, that will not be a problem. There are many options to chose from and prices to fit into every budget.
The Quick Snap Letter System is a glue-on stud system for wall mounted letters that consists of a variety of options witch are: Round (mini, small, medium, large, big, extra big, jumbo and giant), Oval (clear, gray and black), Expander and Spacer (clear, white, black and gray) standoffs. There is also glue available.
The Quick Snap Letter System allows the professional installer a cost effective way to quickly design and install dimensional lettered wall signs increasing your ROI. And the business owner an uncomplicated solution to hang a letter wall sign using very simple and easy to use spacers and snaps.

Every business must have signage. It is the way you communicate your messages to your customers. MBS helps sign shops with quality hardware and business owners with a low cost, quality solution.
Design Your Own Dimensional Letter Wall Sign
Designing your own sign is not rocket science but like many things, there are skills acquired over time that make the process seem easy when watching a skilled professional. We highly recommend for the best results you weight your options of hiring a sign professional. If that is not within you budget here are the steps you need to take to build your own dimensional letter wall sign.
First Google "Acrylic Dimensional Letters" and find a letter supplier you like with the style, color, material and price you like. Then set about designing your sign.
The most difficult part is you need a 1:1 sized template of your sign. (Some letter suppliers will provide a computer generated pen pattern for a fee) Finding paper big enough for that can be a challenge in itself. But you must lay out a real sized version of your wall sign making sure your letters are perfectly aligned and spaced. Trace your letters.
Once this is accomplished you then flip your letters over and determine the best Quick-snap fittings to hold the letter securely and where to place them.
Glue half of the quick-snap system to the letter and allow to cure.
Place the paper template on a soft surface like corrugated cardboard. With the studs glued to the back of the letters line them up perfectly on the template and press the studs through the template making holes where the studs are.
Now transfer the template to the wall and carefully tape it to the wall making sure it is very flat with no wrinkles and perfectly level. You get one shot at this and will be looking at it forever so you want this to be right.
For the next step you can either use a center punch and mark all your holes or, if you are confident of your abilities, just use a cordless drill and drill holes where the stud marks are right through the template paper

making sure to be in the center of the hole

.
Remove the template paper and insert anchors into the holes that require them pounding them flat to the wall. (Some may hit studs and only need the screw)
Screw in the stud into the anchor.
Snap the letter into place on the studs.