Standoff Caps & Barrels

Browse Sub Category
---
Standoff Caps & Barrels
Our Customizable line of Standoffs allows you to custom design the exact standoff you need at the price of a mass produced product. We mass produce the most popular pieces we sell and keep them in stock so that you can make your purchases à la carte and get only what you want and need.
If you order before 6PM Monday - Thursday or 5PM on Friday your order ships the same day. In Florida you get it the next day.
Click an image below to narrow your search:
Customizable Standoffs
To purchase a complete Standoff System You will need to select the following: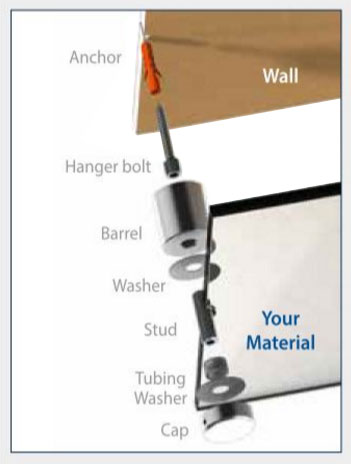 Standoff Caps industry professionals like calling them a "puck" but they are the top of the standoff that you see on the surface of your display. The stud threads into the back of the cap, passes through the material into the barrel to sandwich it and hold it closed.
Standoff Barrels or spacer is the section that goes behind your item and determines the distance the material stands away from the wall.
Studs are how you join the cap to the barrel. Because this is a custom setup you need to determine how long of a stud you need based on the total thickness of your material and the washers plus a half inch for the threads into the cap and barrel. Studs range from 5/16" to 2".
Washers protect glass from the metal standoff preventing breakage. Tempered glass breaks from contact with the edges. When using glass we recomend you use washers.
Tubing this protects the edge of the glass from the stud. When using glass we recommend you use tubing. Tempered glass is most vulnerable on its edges.
Hardware is how you mount your standoff. It consists of screws or hangar bolts and/or anchors for concrete or drywall.
If you like, you can add a Hub in between the cap and barrel to set up an amazing grid display! Do not forget combination screws and anchors!